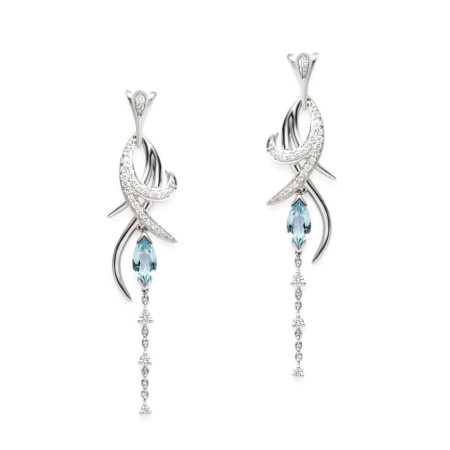 Liana Earrings
£ 1,545.00
Product is currently out of stock and it is on back order, please chat to the team for assistance
SKU:

15804
Categories: 18ct Gold, Collections, Diamond Earrings, Earrings, Floralia, Jewellery, jewellery for women, ladies jewellery, PureJewels, Recipient, white gold jewellery sets
18ct white gold Earring
Diamonds 0.38 cts, Aquamarines 0.84 cts
Can be created in pink tourmaline, green tourmaline and morganite
Hallmarked by London Assay Office
Comes With Presentation Box
Delivery Included
All prices include VAT
Live chat with us for availability and more images of similar designs currently in stock
Liana aquamarine earrings
Gorgeous 18ct white gold dives from your ear with a flourish: these dramatic drop earrings are perfect for special occasions.
Liana is an archive collection that has become a lifelong favourite at PureJewels.  Characterised by polished white gold and crystal-clear aquamarine, it's beloved by romantic and chic women everywhere.
These earrings are dressed with 0.38ct of diamonds, and can be made with aquamarine (seen here) or your choice of stone.  Pick from feminine pink tourmaline, rosy-hued morganite, assertive green tourmaline, or dreamy aqua.  Depending which you choose, your Liana earrings take on a little bit of your personality!
You can even choose a different stone for each Liana piece in your collection: a garden full of bright flowers.
Create a Liana set
The Liana earrings look sensational worn alone as part of your evening attire.  But we've seen them combined with the necklace to create a spectacular bridal jewellery set.  Decadently trimmed with diamonds, Liana is red-carpet-worthy.
About PureJewels
Liana is one of our exclusive collections designed by the in-house team.  We have a long tradition of design and craftsmanship that started when Bhanji Gokaldas PureJewels more than 40 years ago.  Today, we are focused on using the finest gold and stones in our collections, which are largely crafted in Britain.  Our team also sources beautiful jewellery from all over the world.
Hesitating in your decisions?  Why not open Live Chat and talk to us about your jewellery choices.  We can help you to create a personal bridal set or match a piece to your outfit.  We can even help you choose the perfect gift!  Chat online or call to speak to one of our advisors in the London show room.
Product is currently out of stock and it is on back order, please chat to the team for assistance
SKU:

15804
Categories: 18ct Gold, Collections, Diamond Earrings, Earrings, Floralia, Jewellery, jewellery for women, ladies jewellery, PureJewels, Recipient, white gold jewellery sets