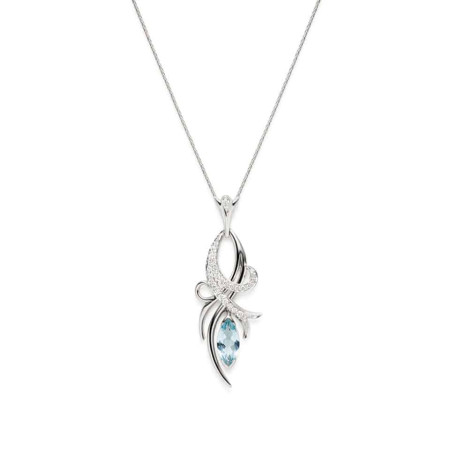 Liana Pendant
£ 1,951.00
Product is currently out of stock and it is on back order, please chat to the team for assistance
SKU:

15807
Categories: 18ct Gold, Collections, diamond jewellery set, Diamond Neckwear, Diamond Pendant, Floralia, Jewellery, jewellery for women, ladies jewellery, Pendants, PureJewels, white gold jewellery sets
18ct white gold
Diamonds 0.21cts
Aquamarines 0.84cts
Can be created in pink tourmaline, green tourmaline and morganite
Gold Hallmarked by London Assay Office
Comes With Presentation Box
Delivery Included
All prices include VAT
Live chat with us for availability and more images of similar designs currently in stock
Liana pendant
You know how this begins: a charming look, a memorable meeting, the heart is smitten. Liana becomes a part of your love story.
Choose your stone – aqua (for dreams), pink tourmaline (for romance), green tourmaline (for respect) or morganite (for optimism).  We will create your Liana necklace to order, setting the stone of your choice in a swirling wave of polished white gold.  It is finished with a generous 0.21ct of diamonds sprinkled over the central pendant.
Most pendants have a solid, 2D shape but Liana is distinctive for its fluid, textured design.  It makes a sensational statement piece for a special occasion.  If you're considering it for your wedding, take a look at the coordinating pieces – Liana, Wildflower and Floralia are all related to the same theme.
You could even choose several Liana pieces set with different stones, creating a multi-coloured set that's vibrant and joyful.
Designed by PureJewels
Liana is an archive collection designed by PureJewels.  It was such a favourite that we now offer it on special order.  For brides and landmark occasions, the Liana pendant is a decadent piece that will be treasured forever.
In the design process, our team was inspired by ancient Indian artwork and the shapes found in nature. Liana fuses organic shapes with an elegant minimalism, for a distinctly contemporary finish.  The choice of stones means that you can personalise this collection, for extra uniqueness.
Questions about your choice?  Don't hesitate to get in touch.  You can call the showroom or open Live Chat.  You'll reach an in-store advisor who can check on stock and make sure that your order will arrive in time.
Product is currently out of stock and it is on back order, please chat to the team for assistance
SKU:

15807
Categories: 18ct Gold, Collections, diamond jewellery set, Diamond Neckwear, Diamond Pendant, Floralia, Jewellery, jewellery for women, ladies jewellery, Pendants, PureJewels, white gold jewellery sets