What is an eternity ring?
Eternity rings are symbols of true and eternal love. They signify the promise of lifelong commitment that one partner makes to the other during the wedding. Eternity rings also symbolise the circle of life, and the belief that come what may, true love conquers all and finds its way back, just like a circle. Therefore these beauties symbolise the journey of eternal love.
Eternity rings, as suggested above, are closed rings that complete a circle. These rings do not have a gap or any kind of opening in the design. Since a traditionally designed eternity band does not have a gap, it is supposed to be made by hand accurately to the size of the wearer to ensure a perfect fit.
At Purejewels, we have a variety of designs and styles of platinum eternity bands to choose from like half eternity ring, platinum diamond eternity ring, womens eternity bands, mens eternity band, platinum diamond infinity ring, channel set eternity ring and lots more. You can go through our options on the website and also get in touch with us through the live chat option.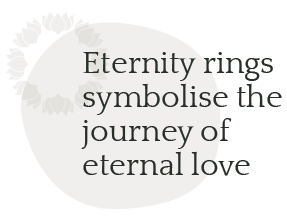 What are different eternity ring styles?
In a traditional sense, eternity rings were and are supposed to be simple and made in a complete circle since they celebrate eternal and never-ending love while they also symbolise "the circle of life". The significance of the Half or full eternity ring remains unchanged till date, although with evolving design languages and style perceptions, the structures and variety of designs available today are diverse.
Contemporary eternity rings today have the same significance but are designed and crafted in a way that they look modern as well. At Purejewels, we have a diverse and wide range of bespoke eternity rings. Some of these ' his and hers wedding rings ' that you might be able to shop with us is a 1 carat diamond eternity ring, ladies diamond eternity rings, diamond half eternity ring yellow gold, white gold eternity wedding band, platinum and diamond eternity ring, eternity baguette rings diamond, sapphire and diamond baguette eternity band, baguette eternity ring, rose gold eternity ring uk, modern eternity rings, white gold band rings, birthstone eternity ring, yellow and white gold mixed engagement rings and many more.
when do you get an eternity ring?
Eternity rings aren't made just for marriage for any occasion, in particular, rather they are celebratory rings that mark the beginning of something beautiful and pure. They are usually given to commemorate a special milestone in a relationship like a proposal, wedding or even a special anniversary, they are also given as gifts on special days like milestone birthdays, the birth of a new baby or even to one another as promise rings.
So if you are wondering when to buy an eternity ring, you don't really need to wait for a grand holiday or occasion. Before bringing home a vintage eternity ring uk, all you have to do is pick a special day that marks something important and is significant to both you and the adorner. Once you have a special day in mind, you can mark the day by purchasing and gifting an eternity ring.
Who can I give an eternity ring to?
As explained in depth above, eternity rings are not specific to the occasion; rather they are purchased and gifted to mark a special day that is significant to the giver and the wearer. People often have this misconception that eternity rings are meant for couples in particular and ask " is an eternity ring a wedding ring ", this is a completely misunderstood concept. Eternity rings can be gifted by one family member to another, by a father to a daughter to mark a special day, by a friend to another to my mark a special day in their friendship, by a sister to her sister to mark their bond of never-ending love and trust and the list can go on and on. Therefore, there is no barrier or a limit to purchasing and gifting an eternity ring. You could choose from a half or full eternity ring, eternity friendship rings, channel set diamond anniversary band, male eternity ring, 7 carat emerald cut eternity band, pearl and diamond eternity band, 5 stone princess cut eternity ring, ruby and sapphire eternity bands, baguette diamond eternity ring, platinum princess cut eternity ring, sapphire and diamond eternity band, unusual gold eternity rings and lots more.