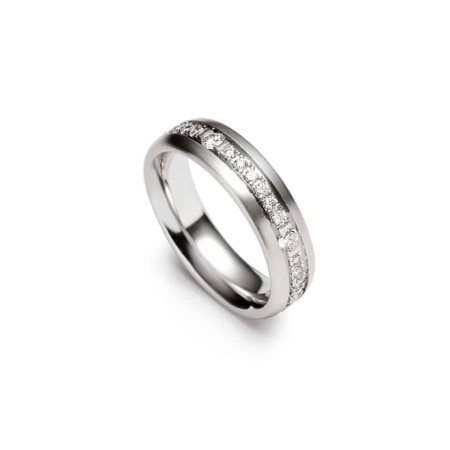 Full Eternity Christian Bauer Wedding Ring
£ 2,995.00
It's on your finger for life; so choose a wedding ring that makes you happy every time you look at it!  There is a lot of happiness in this dazzling diamond wedding ring by Christian Bauer.  Fully encircled with brilliant diamonds, it's been meticulously hand-crafted in 18ct white gold.  On the inside is the stamp of the German Fir tree – Christian Bauer's mark of authenticity, inspired by the fairytale forest near the workshop.  Made using previously-mined metal, your wedding ring is a work of natural beauty.  *We will order your Christian Bauer wedding ring to size.  We can deliver it to your home or the store for trying on.  Please use Live Chat to enquire or order.
Authorised Christian Bauer Stockist
Full Eternity Christian Bauer Wedding Ring
Metal: 18ct White Gold
Stone setting: Prong set diamonds
Diamond weight: 0.60 carat
Diamond quality: G-H Colour and V-S Clarity
Width: 4.5 mm
*Open Live Chat to order.
Christian Bauer diamond wedding rings

The heart wants what it wants.  If you're searching for a diamond wedding ring, this one's perfect.  It is lined with the most beautiful diamonds which have been hand-selected for fire and character.  They're set into the band, so they won't stick out and catch on anything.  Concerned about the price of Christian Bauer rings?  We think it's more than justified by the craftsmanship and quality: if you can, then do… otherwise, you could spend your life wishing you'd picked the diamond one.