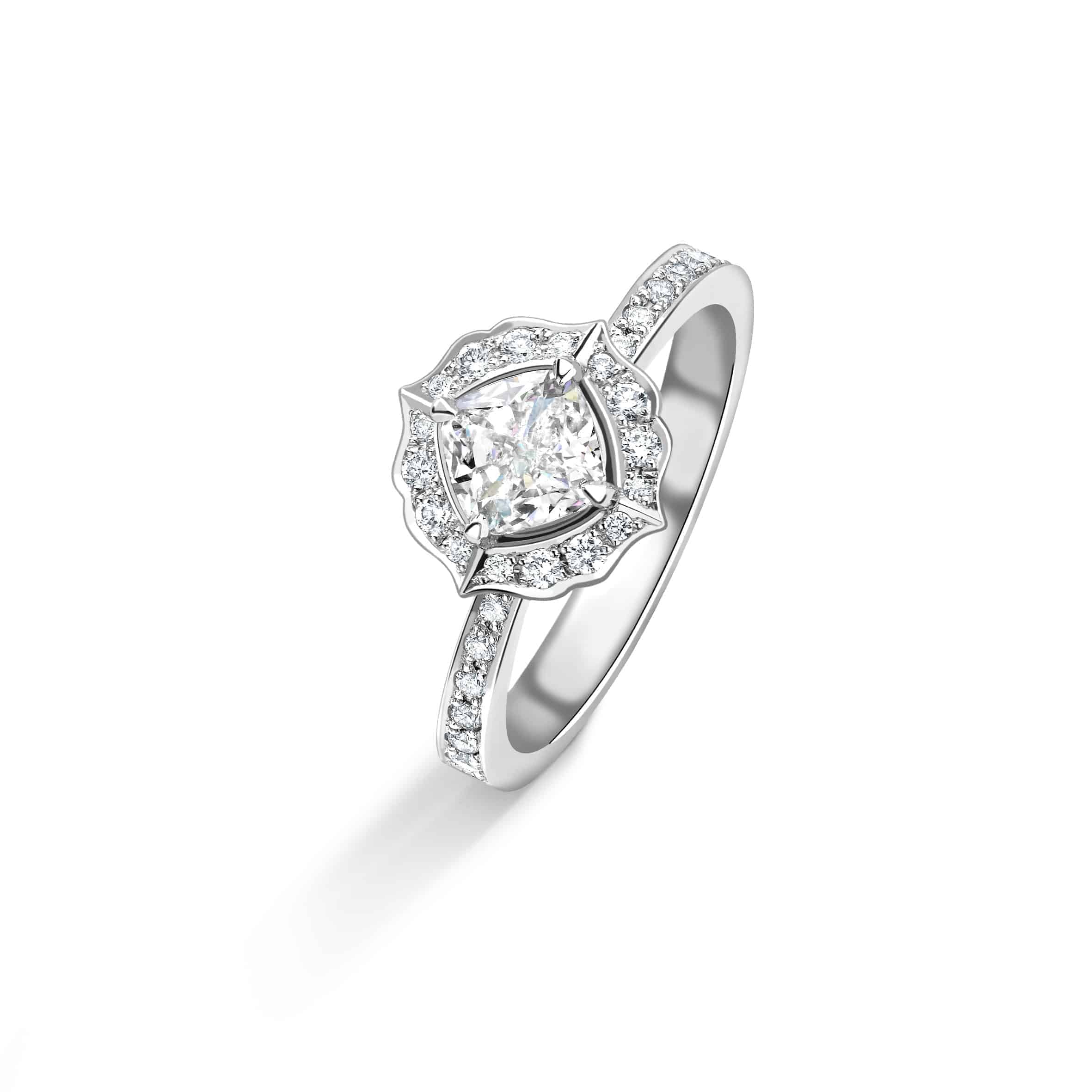 Description
Jaipur Platinum Engagement Ring with diamonds
Taking inspiration from the magnificent grandeur of old Jaipur, this signature engagement ring is designed by us, and beloved by you.  It's decadent, romantic, and guaranteed to take her breath away…
Cushion-cut diamond
Round brilliant diamonds on the shoulder setting
Available in a variety of carat weights
About our diamonds
Choosing the diamond for your Jaipur engagement ring is a serious business.  It may be the biggest diamond you'll ever invest in.  So our expert will select a remarkable, fiery diamond that meets your specification.  There are four stages of selection:
1 – The work begins at one of the world's top cutting centres in India, which supplies us with loose, ethically-sourced diamonds.
2 – Every diamond is then individually inspected and selected for purpose.  It's not as simple as categorising the stones according to weight, clarity, and colour.  Every diamond is different.  Our expert buyers search for 'fire' – the luminous quality of a really special diamond.  Sometimes a bigger diamond will be rejected in favour of a slightly smaller one because the smaller stone has more personality!
3 – From our curated selection of engagement ring diamonds, you may choose the size, colour and clarity that you'd like (going up in price as you ascend the scale), to create a ring at your own specification and budget.
4 – All our diamonds of 0.30cts and above are tested and certified by the GIA (the strictest of testing bodies, based in the USA).  You'll receive the original certificate with the ring.
The Jaipur diamond engagement ring
Ancient India is the perfect source of inspiration for our signature engagement rings.  We've chosen Jaipur – with its romantic, rose-tinted buildings – because it's filled with palatial architecture and beautiful views.  What a place to celebrate romance!   (And what a sensational choice for a honeymoon….)
The design may be nostalgic, but cool, glossy platinum gives the Jaipur engagement ring a contemporary flair.   (It will work beautifully with a platinum wedding ring or eternity ring.)  To maintain that cool glow, every engagement ring in our collection comes with complimentary valeting for life.
But the Jaipur ring's real beauty comes from the abundant use of diamonds: from the cushion-cut central stone, to rows of brilliant-cut diamonds that continue along the shoulders, there's no minimalism here. And that's exactly how an engagement should be!
To make her feel utterly spoilt and lavished with love, the Jaipur engagement ring is The One.
Platinum engagement rings from India
Like our diamonds, our hearts come from India.  PureJewels is a family-run business with Indian heritage – begun in the 1970s by our Indian grandfather and modernised by the next generations.  Today we create 22ct gold bangles and earrings, classic Mangalsutra and platinum rings in Indian tradition. All our platinum engagement rings are Indian in style: lavish, indulgent and romantic.
Platinum wedding rings India
If you'd like a platinum wedding ring to match your platinum engagement ring, just ask – you can use Live Chat or make an appointment in store.  Commission a bespoke platinum wedding ring (Indian style) or choose from our prestigious range by Christian Bauer.  If you come in, you can try the Jaipur engagement ring alongside a platinum wedding ring and choose a complimentary style.
Our diamond rings and Indian jewellery
Our small design team specialises in creating pieces of jewellery with Indian flair.  Inspired by the palatial architecture of Jaipur, a Mughal elephant in procession, or a legendary Indian peacock, they weave stories into every collection.  Come to our London show room to discover our collections of diamond rings and Indian jewellery.   We'd be delighted to welcome you here and help you to discover our world.