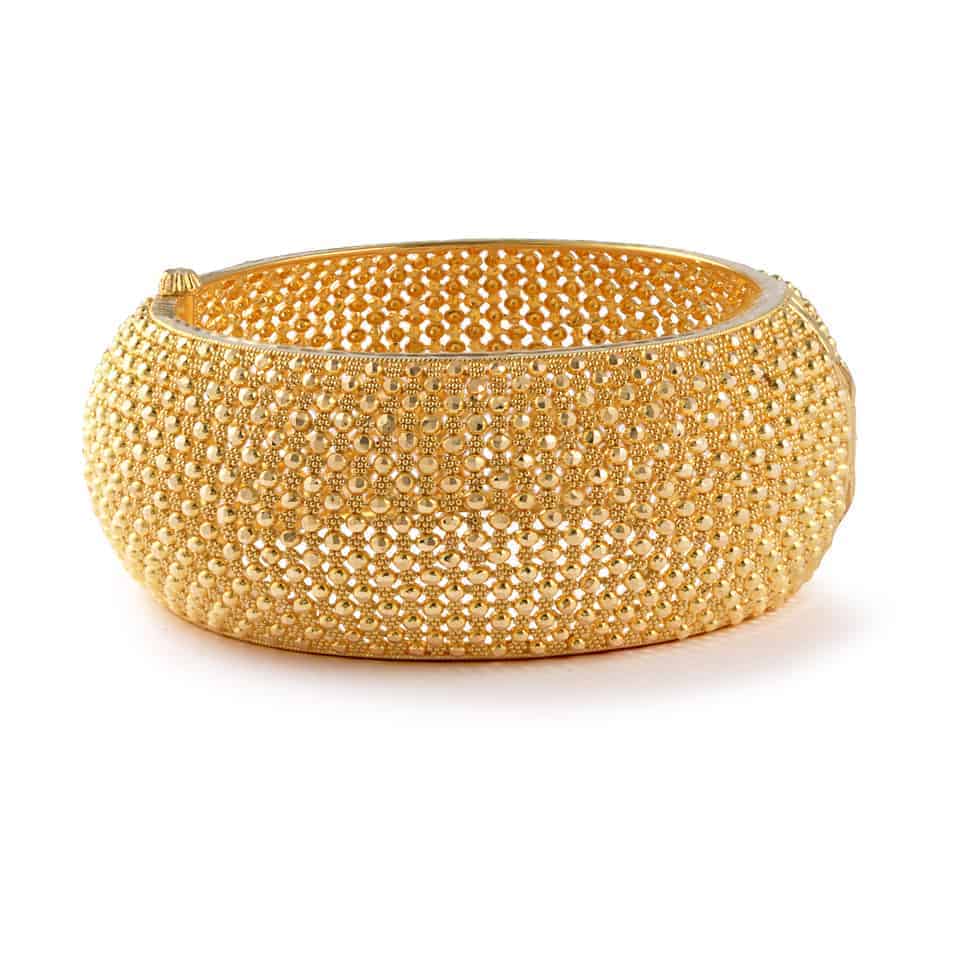 Jali 22ct Gold Filigree Kada Bangle
£ 4,501.00
Product is currently out of stock and it is on back order, please chat to the team for assistance
SKU:

23514
Categories: Bridal And Party Wear Kada, Occasion, jewellery for women, Jewellery, ladies jewellery, Bangles, 22ct Gold, Collections, PureJewels, Jali
Tags: bang, bangal, bangel, bangels, bangle, bangle bracelet, bangle kada, banglees, bangles, Filigree, gold, gold bangle, kada, kadabangle, khanda
Jali 22ct Gold Filigree Single Kada 

SKU: 23514
64.3 g
22ct Gold Hallmarked by London Assay Office
All Bangles Come With Presentation Box
Delivery Included
All prices include VAT
Live chat with us for availability and more images of similar designs currently in stock
Description
In finest 22ct gold, a filigree bangle is an ancient treasure.  This highly traditional piece is intricately fashioned in the classic style.  It's not a bangle for everyday wear.  Your prized filigree bangle will come out for special occasions, where it will be envied and admired.  It's an essential piece for your collection of Indian classics and, at an astonishing 64.3g, it's one of the most valued bangles you'll ever own.
The history of our Gold Filigree bangle
Crafted from 64.3g of finest 22ct gold, this filigree bangle is one to save up for.  It's a real Indian classic, with detailed filigree evoking the architecture in ancient Delhi and Agra.   In fact the technique pre-dates the Mughal era, and is still used all over the world.  Gold filigree makes use of open space to create a pattern that is sometimes, but not necessarily, set with gemstones.  For this bangle, small gold beads have been added (granulation) to the wirework, creating a studded lattice effect.
More Gold Filigree from PureJewels
Create a gold filigree set by adding some Jali Gold Filigree Earrings and a beautiful Gold Filigree Choker necklace.  Discover more of our Gold Filigree Bangles online, or enquire through Live Chat if you'd like to see pictures.
Product is currently out of stock and it is on back order, please chat to the team for assistance
SKU:

23514
Categories: Bridal And Party Wear Kada, Occasion, jewellery for women, Jewellery, ladies jewellery, Bangles, 22ct Gold, Collections, PureJewels, Jali
Tags: bang, bangal, bangel, bangels, bangle, bangle bracelet, bangle kada, banglees, bangles, Filigree, gold, gold bangle, kada, kadabangle, khanda