1. Why is wedding anniversary so important?
The Wedding day is one of the most special and important days in the lives of two people in love. And celebrating this day each year keeps the love alive and shows the other person their commitment. It is special because it marks the union of two souls in love. Wedding anniversary, especially the 1st anniversary, therefore, is a beautiful day to celebrate this love. The celebrations are to remember the heartwarming journey of love during the past year and also mark the start of what is coming ahead while looking forward to what the future holds.
Couples often choose to make each other feel a little more special than what they normally do. They pamper each other by giving anniversary gifts, spending quality time together, going on a beautiful date or even planning a vacation nowadays. If you are in search of a 1 year wedding anniversary gift for your loved one we may have some amazing 1st wedding anniversary gift ideas.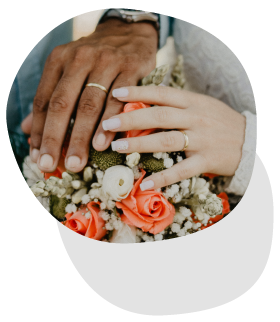 2. What are the best wedding anniversary presents that one could give to their partner?
Well, the list of anniversary gifts can go on and on. Sometimes couples like to celebrate their wedding anniversaries with gifts that are personal and are intangible like making time for each other from their busy schedule and going on a date or inviting their close friends to celebrate and share their love. Other times to mark the occasion, couples choose to pick gifts like anniversary jewellery among other things for each other.
3. Why is the 1st wedding anniversary present special?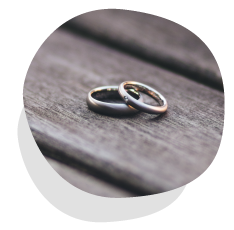 All firsts are special, aren't they? First love, first birthday, first car, first paycheque and many other firsts; mark some of the most significant days in our lives. Just like these, the 1st anniversary too is one of the most important days in the lives of a married couple. The day marks the completion of a whole circle, a year of love and togetherness. The first year of the wedding is essential for the newlyweds to bond with one another and get to know each other's side of families while laying a strong foundation for their future and relationship. Therefore, 1st wedding anniversary gift too should be as meaningful and gorgeous as the past year.
The celebrations are remember the heartwarming journey of love during the past year and also mark the start of what is coming ahead while looking forward to what the future holds.
4. What should I gift my wife for our first anniversary?
The 1st anniversary gift for wife could be from our beautifully handcrafted range of anniversary jewelry for her. The range includes gorgeous rings in rubies, emeralds and diamonds set in gold, platinum and other metals. While nothing matches the beauty of her special wedding ring, some of these beautiful rings by Purejewels, that you choose to gift, are more intricate than the others and could be adorned gracefully beside her special wedding ring.
5. What would be the best 1st wedding anniversary gifts for him?
The first wedding anniversary is special not just for women but equally for men. And so to make this day even more special, it is always a good idea to think through and pick something for him that is beautiful yet personal. While it is easier to find gifts for women, it is a little tricky to choose anniversary gifts for men.
If you are looking to pick something fine and personal you could always go for men's jewellery. At Purejewels we might just have the perfect wedding anniversary gift for husband. You could choose from our collection of men's accessories that range from rings, wrist watches to platinum bands and even cuff links along with many more luxury pieces that would make for perfect wedding anniversary gifts for husband.
6. What are the most appropriate anniversary gifts by year 1 100?
From the 1st to the 80th, there are traditional names for wedding anniversaries. These names are based on symbolic gifts that can be given for each anniversary. This tradition is essential to celebrate and congratulate the couple for their good fortune and their harmonious future together. The following are standard names that are popularly used in the United Kingdom and can vary depending on the country you are in.
1st Anniversary – Paper
2nd Anniversary – Cotton
3rd Anniversary – Leather
4th Anniversary – Fruit or Flowers
5th Anniversary – Wooden
6th Anniversary – Sugar or Candy
7th Anniversary – Copper
8th Anniversary – Bronze or Pottery
9th Anniversary – Willow Pattern or Pottery
10th Anniversary – Tin
11th Anniversary – Steel
12th Anniversary – Silk & Fine Linen
13th Anniversary – Lace
14th Anniversary – Ivory